What is the Dragon Tournament?
Edit
The Dragon Tournament happens twice a week every Thursday and Sunday. Three dragons are exclusive prizes for the tournament which are Brilliant Blaze, Copper Cuff, and Bright Spiked Dragon. The better you do in the tournament the better prizes you receive at the end.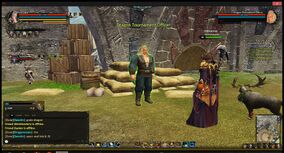 The Dragon Tournament Officer can be found on both levels of the building in front of the Transportation Master in Arteicia, one being across from the Dragon Arena and the other on the bottom floor across from the Dragon Lair.
Aditionaly there are Dragon Tournament Officers located in:
Participating in the Tournament
Edit
When the Tournament has started a yellow message will scroll across the screen announcing the Qualification Round has begun which will last for one full hour. Anytime during this hour you may talk to the Dragon Tournament Officer to create your team and register. If all registration spots fill and you have not gotten a spot, you may click the "Randomly Challenge" button on bottom of the pop up to challenge someone for their place in the tournament.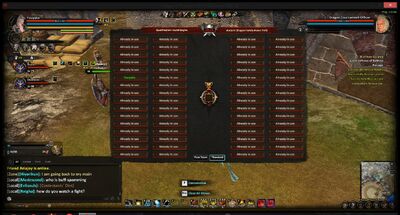 Tournament Order:
1:59min wait time between each.
Qualification Round - 1 Hour
Preliminary Round -
Round of 64 - 4:59mins
Round of 32 - 4:59mins
Round 16 - 4:59mins
Semi Finals - 4:59mins
Quarter Finals - 4:59mins
Final - 4:59mins
Cheering and Joining a Match

Edit
The ability to cheer starts at Round of 64. Right click on the participant's name to select the cheering option. Joining a match for a player that has been cheered for will display goblins beating on a drum for each player. The more cheers the person received influences how fast the goblin on their drum goes eventually lighting on fire if that person has been popular.
Prizes are awarded in your mailbox after the final round's countdown has ended.
1st Place - 100k, 3000 Dragon Runes, Champion's Chest
2nd Place - 70k, 2300 Dragon Runes, Runner-up's Chest
3rd - 4th Place -50k, 1800 Dragon Runes, Excellent Achievement Chest
5th - 8th Place - 40k, 1400 Dragon Runes, High Reputation Chest
9th - 16th Place - 30k, 1000 Dragon Runes, Battle-seasoned Chest
17th - 32nd Place - 20k, 600 Dragon Runes, Relentless Striving Chest
32nd - 64th Place - 10k, 300 Dragon Runes, Rising Star Chest
| Name | Location | Image |
| --- | --- | --- |
| Champion's Chest | 1st Place | |
| Runner-up's Chest | 2nd Place | |
| Excellent Achievement Chest | 3rd and 4th Place | |
| High Reputation Chest | 5th - 8th Place | |
| Battle-seasoned Chest | 9th - 16th Place | |
| Relentless Striving Chest | 17th - 32nd Place | |
| Rising Star Chest | 32nd - 64th Place | |
| Good Work Chest | ? | |
| Outstanding Performance Award | ? | |
| Support Gift Bag | Sucessful Cheer Prize | |